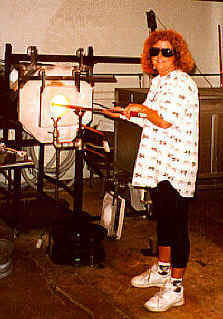 I began designing and creating jewelry in 1988. My initial products were created solely from seed beads, but soon added a wide variety of beads to create a different look. While attending the 2nd International Bead Conference I took a class in Polymer Clay and was hooked. Using the millifiori technique to produce polymer beads, I then incorporated the beads into all types of jewelry or sold them loose so the buyer can create something for themselves.
During the Summer of 1993 I started working with furnace produced glass beads to enhance my jewelry designs. Working with glass lead to a desire to produce my own glass beads. I started working with a bench burner to produce lampworked glass beads. I have since become an accomplished glass lampworking artist. Working with glass has given me an exciting new medium to experiment with.
With the addition of glass I started making functional, One-of-a-kind pieces of art, and assures the buyer the each item sold is unique. My glass working has turned to fusing and slumping glass to create an even wide range of art. I have started working with pattern bars of glass that I create by slicing cross sections of a loaf of glass that I have created. These cross sections are used to decorate the tops of my jewelry boxes and other pieces of art.
I exhibit my work in numerous local and national art shows. In addition, many galleries and shops throughout the United States sell and\or display my work. I was also selected from applicants from around the world to have a booth at the 3rd International Bead Conference in Washington DC.
I have been a member of the Northern Virginia Handcrafters Guild, the Rehoboth Art League, the Washington Bead Society and the Northern Virginia Bead Society.